Join Heart of America Carnival Glass Association Today to Learn about Carnival Glass
The 2015 convention has been announced and will be held
April 22-26, 2015 at the Embassy Suites Kansas City Airport Hotel.
 Reservations can be made by calling the Embassy Suites Airport Hotel at 816-891-7788 and mentioning the special HOACGA rate or by clicking the link below. The Embassy Suites Hotel has a shuttle service to and from the airport .
Click here for the location of the Embassy Suites Kansas City International Airport 
Click here to make your hotel reservations for the convention
2015 HOACGA CONVENTION SCHEDULE
The 2015 HOACGA Convention will be April 22-26, 2015, Embassy Suites Airport Hotel. Room rate $117.00/day, rate includes Breakfast and Managers Reception (happy hour). All rooms are 2 room suites with a refrigerator and a window for displaying your glass. You are encouraged to bring glass for sale and Room Displays are always a welcomed part of the convention.
The past displays have featured Rarities, Patterns, Colors, or Makers. The major display for 2015 will be on something that is somewhat difficult to define, it will be on "Whimseys and Unusual" pieces.  If you have something that you think will fit into this display please Email Bob Grissom at bgrsm31@comcast.net. This display of Carnival Glass pieces is presented for your education and viewing enjoyment.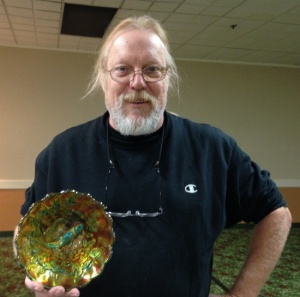 Tom Burns of Burns Auction Service will be talking about the HOACGA display glass.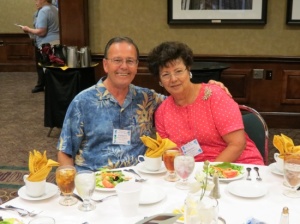 The John & Lucile Britt award will be presented to Emmett & Dorothy Morgan. They have been active in carnival glass for many years. Emmett has been the President of the TCGC organization for several for ten or more years (and Dorothy has probably given him some advice along the way). They have traveled from Florida to California to present educational programs at various club conventions.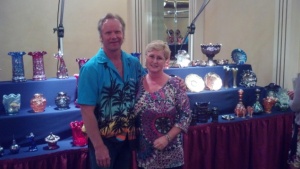 Educational talk —- David & Amy Ayers —–Thursday, 7:30 p.m. they will be speaking about some of their outstanding collection of Australian carnival glass . It will be an opportunity to get some expert advice and information about this non-U.S. glass. Dave and Amy have specialized in the collection of Australian carnival glass. This will be a very informative talk.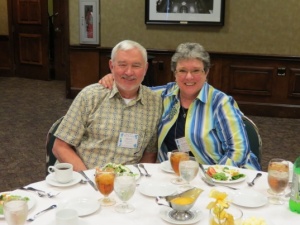 Banquet speaker—- Karen Engel. Karen and Doug were founding members of the Pacific Northwest Carnival Glass club. Karen is a past President of the PNCGC. Karen sold her first collection in order to purchase an older Historical home. She has returned to her past carnival glass interest and has assembled another outstanding collection. We are pleased to have them as our Banquet speaker.
The convention auction will feature some rare and unusual glass from the  Bud Martin collection. Bud's collection contains many top pieces of Northwood glass. This will be another opportunity to add more quality carnival glass to your collection. The auction will be conducted by the Seeck Auction Co.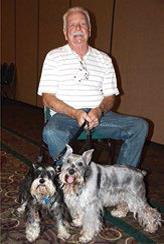 ________________________________________________________________________________________________
The Heart of America Carnival Glass Association (HOACGA) was formed in 1972 for the purpose of promoting the hobby of collecting Carnival Glass.  This is accomplished by providing educational information through a Newsletter (6 times a year), a yearly Convention (with educational programs), a Notebook (different subjects are added periodically), and have published several books on writings by members.  An annual convention is held each year in Kansas City, Missouri at the Embassy Suites Hotel by the airport (The hotel has a shuttle bus to pickup anyone flying in for the convention). The annual convention is in April.